Pipeline Trench Breakers Using PolyLevel®
See PolyLevel® Trench Breakers in action and learn why it's the superior alternative to sandbags for pipeline installation.
Safely fill areas around pipelines with polyurethane injection foam
One of the most important elements needing to be addressed during the construction of a pipeline is ensuring that appropriate water control measures are in place.
Prior to back-filling the trench, PolyLevel® trench breakers, or water stops, should be installed to control excessive amounts of water from flowing through the porous soil material and compromising the stability of the pipeline.
These breakers also prevent erosion and wash-out of the soils within the trench, which is valuable when protecting native soils and sediment that would otherwise be washed out by the trench. This is one of PolyLevel®'s most versatile usages when compared to other concrete leveling products.
Consider using PolyLevel® for your pipeline installation project or other commercial applications. Call or contact us today for a Free Estimate and consultation!
PolyLevel® Trench Break Foam offers many advantages over alternative options such as sandbags or imported clay, some of which include:
Safety – PolyLevel® foam can be installed from grade level, thus eliminating the need to work within the trench.
Efficiency – Several trench breaks can be installed utilizing PolyLevel® foam in the time it takes to install one trench break utilizing other methods.
Performance – Superior adhesion of the PolyLevel® foam contours to the shape of the trench and pipeline, creating a completely water-tight seal to eliminate erosion of the soils
Cost Effective – With the speed of installation allowing the trench to be backfilled within 15 minutes after application, superior long term performance, and less labor needed for installation, PolyLevel® trench breakers can offer significant cost savings over alternative options.
Durability – PolyLevel® foam is specifically engineered with an extremely low exothermic reaction, allowing it to be installed quickly in deep trenches without breaking down.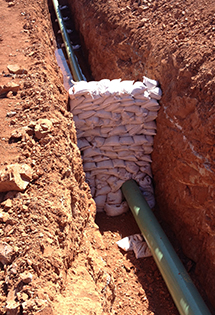 PolyLevel® can be installed in a fraction of the time as sandbags and will not break down over time.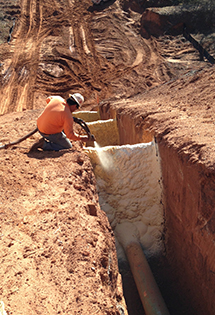 The install process is able to perform work from ground level, negating the need to get in the trench.
Within minutes a trench breaker can conform to any shape or condition that the application requires.
p
Call now for a Free Estimate on the PolyLevel® system for commercial applications.
Looking for a price? Get a no cost, no obligation free estimate.
Contact us today for a FREE estimate! Call 1-​866-909-4086 or enter your zip code: