Sunroom Foundation Leveling with PolyLevel®
Fix your settling concrete slab for a new, stable sunroom addition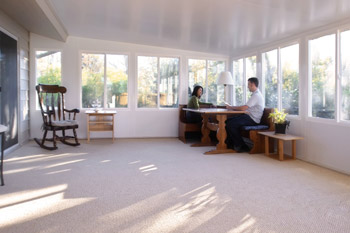 Sunrooms often settle due to inadequate footings. Polymer injection can lift and level sunken sunrooms while closing gaps and stopping leaks.
Many sunrooms begin life as a screened-in porch or patio. Then a homeowner decides to capitalize on the existing slab and enclose the space for year-round use. It seems like a great idea. Unfortunately, many slabs are not adequate to support the added load of framing, floors, windows, patio doors, and roofing. The slabs begin to settle. Because they are often separate from the house foundation, they often pull away from the adjacent house. Gaps open and leaks ensue.
PolyLevel® technicians have proven solutions to repair sunrooms, making them look as good as new. If your sunroom is in need of concrete slab lifting and leveling, trust your local PolyLevel® to get the job done right! Schedule a free estimate by clicking below.
Problems with old sunroom slab solutions
Demolishing the sunroom, breaking up the old slab, and installing a new slab with proper footings would be exceedingly costly. Instead, many homeowners have turned to various slab jacking methods, including the installation of piers and brackets to support the slab and mudjacking.
Most traditional methods can result in disruption and mess inside and outside your home. If piers need to be installed around the slab perimeter outside, say goodbye to valuable foundation plantings. If the piers are to be installed through the floor from inside the structure, your job will need to include new flooring. Either way you're going to have to deal with significant upheaval and will be without the use of your sunroom for a significant period of time.
The PolyLevel® Solution for Sunrooms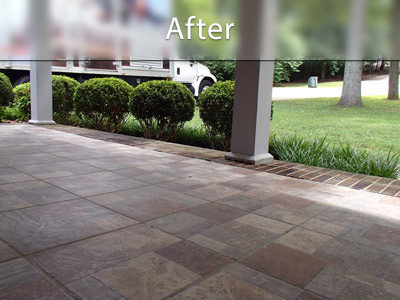 Raising a porch slab before and after. Polyurethane injection can also be used to raise sunken porch and patio slabs.
A less invasive residential slab jacking repair solution is the PolyLevel® polyurethane injection method. PolyLevel® can raise your sunroom's slab foundation back to its original level position. The dime-size injection holes are so small, existing flooring can typically be patched rather than removed. Repair lifts can often be completed in a single day with a crew of one or two technicians and requires no excavation or heavy equipment for installation. The pump, heater, and generator necessary to deliver the polymer formulation are left parked out on the street, not in your living room.
If your sunroom or solarium is showing signs of separation from your home or if trip hazards and rain leaks have developed where it joins the house, allow us to make it better. Simply contact your local PolyLevel® contractor today and they'll provide you with a free repair estimate and inspection.
Looking for a price? Get a no cost, no obligation free estimate.
Contact us today for a FREE estimate! Call 1-​866-909-4086 or enter your zip code: